The cost of attending business school is undeniably steep, with top MBA programs in the United States costing over $150k in tuition alone. But when it comes to MBA salaries after graduation, the return on your investment is significant.
Doing a full-time MBA may be worth an additional $20,000 a year in the US jobs market immediately after graduation—and an MBA from a top school can get you six figures of total compensation.
There's no one answer to the question 'What salary you will earn after an MBA?' MBA salaries vary by industry, location, and the business school you graduate from.
While there are many more reasons to pursue an MBA than salary uplift alone, understanding MBA salaries across industries and schools will give you a better idea of what you can expect to gain from your MBA.
Here, we break down some of the latest annual salary data for full-time MBA graduates in the USA:
---
Read on or skip to your section of interest by clicking the links below:
BB Takeaway: Understanding MBA salaries
---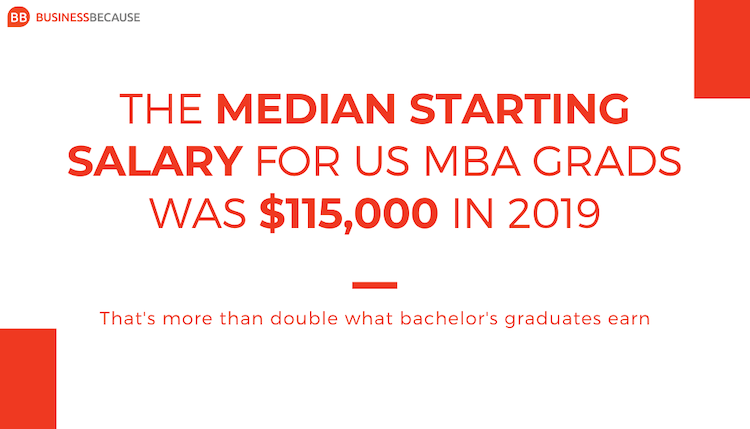 ---
Average MBA Salary in the USA
---
If you're an international student, getting an H-1B visa to stay and work in the US after graduation is tricky. But the good news is that salaries in the US are typically higher than elsewhere.
Average starting salaries for MBA graduates in the US hit a record high in 2019, according to data from the Graduate Management Admission Council (GMAC). According to GMAC, the median annual base starting salary US employers planned to offer new MBA hires in 2019 was $115,000, more than double the median for new bachelor's degree hires. This is based on a survey of MBA employers.
According to US News, the starting salary for a 2020 MBA in the US may be more than $20,000 higher than for someone with a bachelor's degree in business.
There is, of course, big variation depending on where in the US you're studying and plan to work, and what job role and industry you go into.
What is the average salary for an MBA graduate in the USA? USNews.com reports the following statistics for average starting salaries for MBA grads in the class of 2019:
---
US average across all schools in 2019: $107k
Average of the 12 US business schools whose MBAs net the highest salaries: $174k
Average of the 10 US business schools whose MBAs net the lowest salaries: $52k
Due to the current global uncertainty, however, the prospects for the 2020 graduates are expected to be somewhat worse. The National Association of Colleges and Employers conducted a survey indicating that the average predicted compensation for the MBA class of 2020: $79k
---
MBA Salary by Industry
---
While many MBA graduates still work in consulting and finance, you can find MBAs working in any industry in today's jobs market.
From technology to real estate and healthcare, salaries can vary significantly by industry. There's a big difference between how much you can earn working in finance versus nonprofit, for example.
Here, we break down salaries in some of the most popular post-MBA industries, by looking at MBA specializations on salaries website Payscale. How much do MBA students specializing in tech, consulting, finance, or marketing earn in their respective fields after graduation?
---


---
Average Salary for MBA in Technology: $112k
Graduates from MBA programs specializing in technology earn the highest average salary by industry at $112k. Chief Information Officers (CIOs) can earn a massive £202k, while product managers earn an average of $101k and senior data analysts earn $87k.
Average Salary for MBA in Consulting: $104k
Consulting firms are competing fiercely for MBA graduates, driving salaries to record highs. The big three consulting firms (McKinsey, Bain, and BCG) offer base salaries of $165k! However, the industry average salary for consulting is less than for technology. The average salary for MBAs focused on consulting who then land management consulting jobs is $104k.
Average Salary for MBA in Finance: $98k
The average salary for a finance MBA grad working in the finance sector at $98k, a major upgrade on the average salary of $61k for someone with a bachelor's degree in the same sector. Pursuing higher qualifications might take you from $64k as a Financial Analyst to $161k as a CFO.
Average Salary for MBA in Marketing: $91k
Salaries for MBAs in marketing cover a wide field, from $57k for a Marketing Specialist to almost three times that, $162k, for a VP. A range of positions crack $100k a year, including Senior Marketing Manager ($108k), Marketing Director ($112k) and Senior Product Manager ($122k).
---
MBA Salary by School
---
While MBA tuition fees can vary vastly between institutions, at most top schools you get what you pay for. Employers know this too and are willing to pay a premium for graduates who've proved their mettle in the most demanding, and most rewarding, MBA programs.
Here are the three US schools whose graduates consistently bag the highest salaries. The figures below are for average MBA salaries three years after graduation and taken from our list of 20 Business Schools Where Graduates Earn The Most.
---
Average Salary for Harvard MBA graduates: $210k
---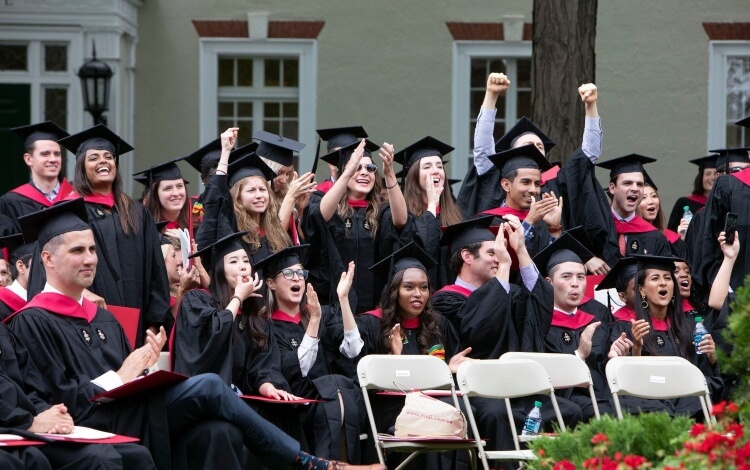 Graduates from Harvard's MBA can expect to earn $210k ©HBS Facebook
---
According to Harvard's recruiting data, 57% of graduates in the class of 2019 scored a signing bonus, averaging $30,000. Some 12% received other guaranteed compensation in their employment packages, worth an average $52,000.
---
Average Salary for Stanford MBA graduates: $222k
---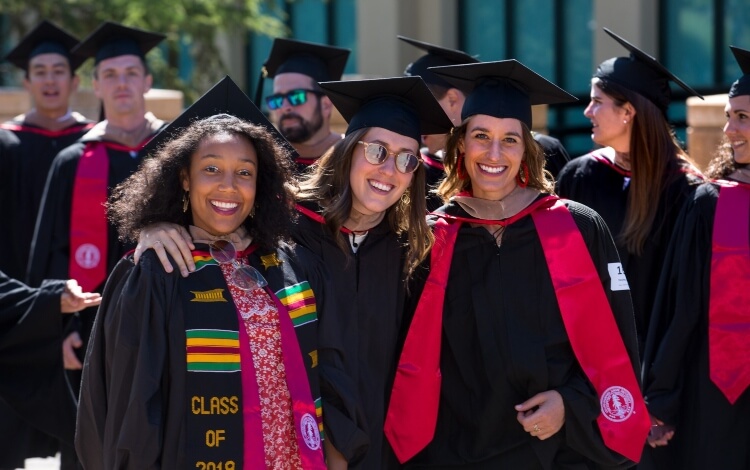 Graduates from Stanford's MBA can expect to earn $222k ©Stanford GSB Facebook
---
Stanford has an established track record as the business school whose MBA graduates snag the highest average salaries. According to Stanford's latest MBA careers report, 56% received signing bonuses averaging $28,328, and 72% expected performance bonuses of $66,311 straight after graduation.
---
Average Salary for Wharton MBA graduates: $211k
---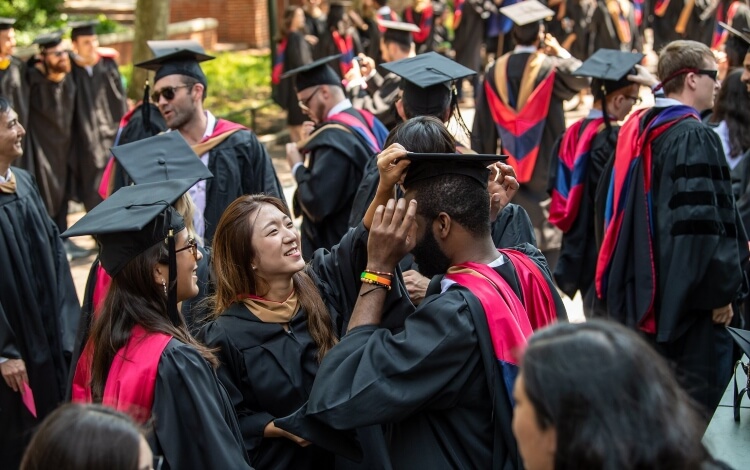 Graduates from Wharton's MBA can expect to earn $211k ©Wharton Facebook
76.9% of Wharton's class of 2019 sought out new jobs after graduation and 35.8% wound up in financial services. For the 25.1% who entered consulting, the average salary hit $165,000 before any other perks or bonuses. Only 1.9% entered the legal and professional services sector, which earned them a whopping $190,000 base.
---
---

Understanding MBA salaries
Ultimately, the actual compensation you secure will depend on variables such as your location, seniority, industry and work experience.
Schools outside the US can also be attractive options, offering a broader educational and networking experience that will also secure a generous salary. Take, for example:
INSEAD, where MBAs earn $181k three years after graduation. According to salary website emolument, the highest-paid INSEAD alumni are insurance professionals at $227k annually; R&D, pharmaceuticals and biotech professionals at $190 000, and those employed in the public and not-for-profit sectors at $178k.
Or, Indian Institute of Management (IIM) Ahmedabad and Bangalore where MBAs earn average salaries of over $186k and over $183k respectively, three years after graduation. Not only do IIM MBAs earn well, the Institute has recorded a 100% employment rate for its MBA students in the three months following graduation.
Wherever you go to business school, bear in mind that an MBA is an investment that pays off over your whole career—remember that these projections apply to your first job after graduating, and it should be onward and upward from there.
The pursuit of an MBA is part of a broader journey towards bigger and better things.
Read more about career opportunities after your MBA.

Please Enter the Code Below