The United States tops the list of dream destinations for prospective business school students. But depending on the result of the US Election on November 3rd, it's hard to know which version of the future students may be met with.
The Trump administration sued Ivy League schools like Yale over their acknowledgement of systematic racism, deregulated student loans, and flip-flopped over international student visas.
Over 50 US business school deans signed a historic open letter demanding changes to Trump's immigration policy. Could a Biden win bring more positive change?
We explore what each administration could mean for internationals in the US, job opportunities, and the value of your business school degree.
---
Internationals
---
The reputation of US business schools draws in international students from around the world. But in recent years, their reputation for welcoming internationals has been damaged, and the election result could impact how the US is perceived around the world.
---
Trump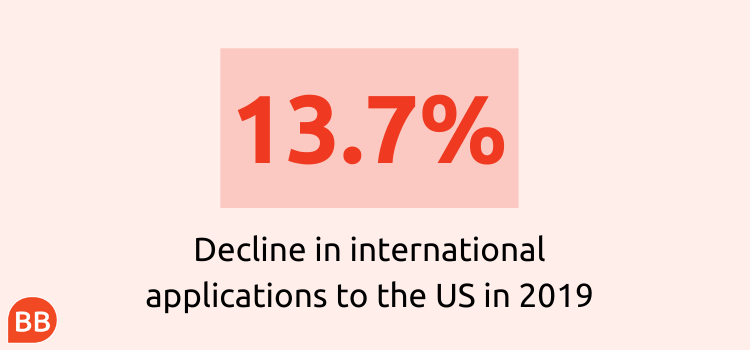 Since Trump's election in 2016, international diversity at US business schools has taken a hit. International applications to US schools fell 6.6% between 2017 and 2018, and a further 13.7% in 2019, according to the Graduate Management Admission Council (GMAC).
One reason could be Trump's sustained attacks on international visas. Trump most recently proposed a time limit on the F1 Visa (the student visa), which limits flexibility for international students and could even block the prospect of studying in the first place for students from certain countries.
"Internationally, that creates a sentiment that immigrants aren't welcome in the US," says Geoff Basye, global public relations director at GMAC. In a survey of Chinese and Indian candidates, over half said the current US political environment prevents them from applying to US schools.
The declining popularity of US schools is leading to increasing numbers of candidates applying to schools in Europe and Asia, which could cause serious financial damage to US schools.
"[Internationals] are typically full fee paying students and they have made up for a domestic market that hasn't really been growing," explains Tim Westerbeck, president of higher education consulting firm Eduvantis.
---
Biden
The hope is that a Biden victory on November 3rd could repair some of the damage. Biden has vocally criticized Trump's approach to immigration and visas, in the past labelling them as "racist".
"A Biden victory should be a welcome result for international candidates, as immigration restrictions should be eased and visas, particularly after graduation, may be more accessible," says Scott Edinburgh, admissions consultant and CEO of Personal MBA Coach.
But international diversity in the classroom won't be restored instantly. It could also take years to change the way the US is perceived, and even then, numbers are unlikely to return to normal.
"International students aren't just going to leave the schools they're enrolled in just to come to the United States. There have been relationships formed, market patterns established, and I don't think it's as easy to recover as some people might think," Tim emphasizes.
---
Jobs
---
Coronavirus is already impacting employment opportunities post-business school. Business education is a counter cyclical industry—when the economy is strong people tend to stay in the workforce; when it's weak more people go to business school to upskill, network, and stand a better chance of enhancing their career.
For both administrations, the pressure is on to build economic recovery, in order to guarantee jobs and restore faith in post-MBA employment opportunities.
---
Trump
For those internationals who still enrol at US schools, landing a job afterwards remains a challenge. Earlier this year, Trump temporarily suspended the issuing of any new H-1B work visas for foreign workers looking for work in the United States, until the end of 2020.
That suspension extended to L visas too. The L-1 visa was an alternative to the H-1B Visa that allowed migrants to be employed for a US company with global operations and return to work for the firm in the US.
---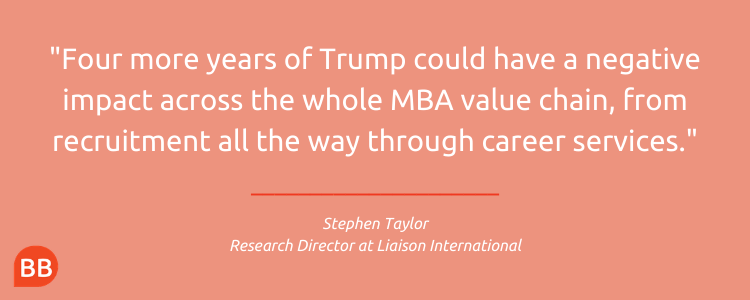 ---
Restrictions in place around work visas are only half of the problem. If a weak economy translates into an infertile jobs market, there could be high barriers in place for business school graduates.
According to Moody's, the economic outlook is weakest under a scenario in which Trump and the Republican Party sweep Congress. 'The economy is expected to create 11.2 million jobs during Trump's second term as president, and it is not until the first half of 2024 that the economy returns to full employment,' the report says.
"The Trump administration for four more years could have a negative impact across the whole value chain of the MBA student experience, from recruitment all the way through career services," explains Stephen Taylor, a research director at Liaison International, an admissions marketing and management consultancy.
---
Biden
Moody's predicts a quicker economic recovery under a Biden presidency. A Democrat victory could create 18.6 million jobs, with the economy returning to full employment and an unemployment rate of just over 4%, by the second half of 2022.
Still, whoever wins the presidency, the economic outlook is stark. The past four years of Trump does give a baseline prediction of what another four years could look like. Though Biden's agenda is untested, it would be expected that his policies would favor a rollback of Trump's work visa restrictions, coupled with the spending necessary to lift the US out of a slump.
"A Biden administration would show at least an attempt at the opposite [of what Trump has done]," Stephen explains, "which would be to a reconciliation process trying to pull apart some of these executive orders, and trying to slow and then stop the pandemic so businesses can truly continue to open."
There is some cause for optimism though among recruiters. Companies polled by GMAC in its annual Corporate Recruiters Survey expect hiring to rebound in 2021. In wave two of GMAC's research—carried out between June 17th-and-July 17th—89% of recruiters said they planned to hire MBAs in 2021.
---
What Are The Key Business Battlegrounds For Trump & Biden?
---
The value of your degree
---
The outcome of November's election could impact the value of obtaining business school qualifications in the US—including how they are perceived by employers, the salary you can expect to earn, and the quality of the network you develop.
Trump
"How can you teach someone to be a global business leader in a global business world if you have nothing but domestic students in your classroom?" Tim from Eduvantis asks.
It's a valid question. Learning with students from all over the world—with different backgrounds and perspectives—is one of the core benefits of pursuing a business school degree. And diversity in the classroom has been shown to improve creativity, critical thinking, and cognitive skills.
Trump's anti-immigration policies could threaten this diversity.
International students will still apply to top-ranked schools with strong brand reputations, like Stanford and Harvard. It's the lesser-known US schools—whose appeal is based on their US location—which are more likely to lose out on international talent and where the value of degrees may wane.
---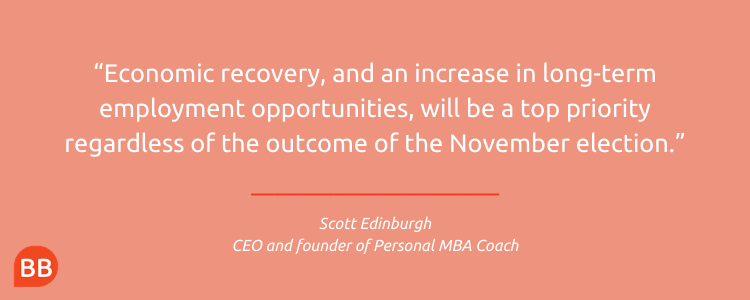 ---
Biden
A Biden administration could usher in a more welcoming atmosphere for international candidates and graduates, making it easier for international graduates to find jobs in the US.
However, Scott predicts that the value of a US business degree won't be significantly impacted by the election's outcome.
Among employers, business school graduates are still in high demand. Salaries for MBA graduates have increased in recent years. Although the coronavirus pandemic knocked salaries back in 2020, MBAs can still expect to earn six figures, allowing them to recoup the cost of their program relatively quickly.
"Despite short-term political and economic concerns, the long-term value of an MBA from US business schools remains strong," Scott says.
"Economic recovery, and thus an increase in long-term employment opportunities, will be a top priority [for the US] regardless of the outcome of the November election."
---

Four more years of Trump could threaten international diversity on US campuses even further. A Biden win would seek to protect this vital aspect of business school life, but with the damage done already, it could be an uphill struggle.
Visa regulations and job prospects with an economy recovering from the impact of COVID-19 all add to the mounting concern.
The tumultuous election poses the biggest overall threat to less established business schools, with the appeal of the Ivy League and other highly-ranked schools resting in tact.
But there's only so much that drama in the White House can do to shake the faith of employers. Despite the political upheaval, the long-term value of an MBA or business master's degree in the US looks set to remain.

This article was written by BusinessBecause writers Bethany Garner, Joy Hunter, Simon Lovick, and Thomas Nugent.