What does it take to become a Fortune 500 CEO? These business leaders are often creative risk-takers with heaps of resilience, who use their management skills to guide their companies to the top.
It's not just luck and natural talent that takes you to this coveted position. Pursuing an MBA can make the road to the c-suite quicker, which is exactly what these Fortune 500 CEOs did.
How many Fortune 500 CEOs have MBAs then? Quite a few it would seem. Out of the Fortune 500's top 30 firms, 13 are headed up by MBA alums, including household names like Apple, Microsoft, and JPMorgan Chase.
If you want to become a Fortune 500 CEO, you might want to consider going to a top-ranked US business school first. Only two of the 13 CEOs listed went to b-schools outside the US top 20.
Here's 13 Fortune 500 CEOs with MBAs, and where they went to business school.*
---
13. Charles Scharf

Still image from: https://www.youtube.com/watch?v=jo_I6V-H8Xs
Company: Wells Fargo
Fortune Rank: 30
MBA: NYU Stern
Charles Scharf previously held posts as CEO of the Bank of New York Mellon and CEO of Visa, before being named CEO of financial services firm Wells Fargo in September 2019. He holds an Executive MBA from NYU Stern, which he completed in 1991.
---
12. Gail Boudreaux

Company: Anthem
Fortune Rank: 29
MBA: Columbia
When Gail Boudreaux became CEO of Anthem in 2017, Anthem became the second-largest American company by revenue with a woman as CEO. She completed her MBA at Columbia Business School, and before being made CEO of health insurance provider Anthem in 2017 she held a CEO role at United Healthcare.
---
11. Hugh Frater
Company: Fannie Mae
Fortune Rank: 24
MBA: Columbia
Hugh Frater also completed his MBA at Columbia Business School, graduating in 1985. During his time on the program, Frater was also part of the Real Estate Advisory Board—a fitting experience considering his current position at the Federal National Mortgage Association (Fannie Mae).
---
10. Satya Nadella

©Brian Smale & Microsoft. Image used under this license.
Company: Microsoft
Fortune Rank: 21
MBA: Chicago Booth
Satya Nadella has been CEO of Microsoft for over six years, but joined the company way back in 1992, just before starting his MBA at the University of Chicago Booth School of Business. He completed his degree in 1996, and over the last five years has also taken positions on the board of directors for Starbucks, Fred Hutch, and his alma mater the University of Chicago.
---
9. Mary Barra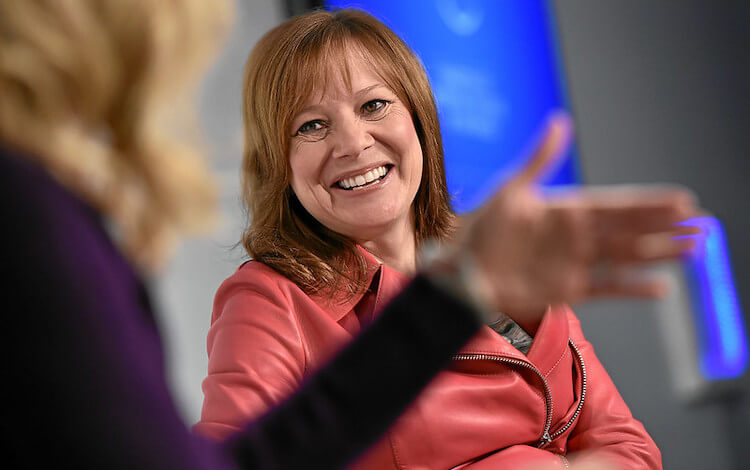 ©GPA Photo Archive/Michael Buholzer. Image used under this license.
Company: General Motors
Fortune Rank: 18
MBA: Stanford
The only other female CEO of a top-30 Fortune 500 company with an MBA, Mary Barra is also the first female CEO of a major automaker. She started her career at General Motors in 1980, when she was a General Motors Institute (Kettering University) co-op student, and followed her bachelor's degree in Electrical Engineering with an MBA from Stanford University Graduate School of Business in 1990.
---
8. Jamie Dimon

©World Economic Forum. Image used under this license.
Company: JPMorgan Chase
Fortune Rank: 17
Jamie Dimon entered the c-suite in 2004 when he was made COO of JPMorgan Chase and progressed to CEO in 2005. He completed his MBA at Harvard Business School in 1982, and is the only figure on this list to have completed his MBA at HBS.
---
7. David Cordani
Company: Cigna
Fortune Rank: 13
MBA: University of Hartford
David Cordani holds an MBA from the University of Hartford, Connecticut, which he completed in 1995. He's been at health insurance giant Cigna for almost 30 years, starting his career at the company in 1991.
---
6. Jim Farley

Company: Ford Motor
Fortune Rank: 12
MBA: UCLA Anderson
The greenest CEO on this list, Jim Farley was only made CEO of Ford Motors in October 2020, before which he held numerous roles at the company including VP of Global Markets and Executive VP of Global Marketing. He completed his MBA at the University of California, Los Angeles in 1989, with a specialization in finance.
---
5. Sundar Pichai

©MaurizioPesce. Image used under this license.
Company: Alphabet
Fortune Rank: 11
MBA: Wharton
Sundar Pichai holds an MBA from The Wharton School, and started his business career as a consultant with McKinsey & Company shortly after graduating. However, he soon realized that Google was the right place for him, and joined in 2002, before eventually becoming CEO of Google and its parent company Alphabet.
---
4. John Stankey
Company: AT&T
Fortune Rank: 9
MBA: UCLA Anderson
John Stankey took over as CEO of AT&T in July this year, after spending 35 years at the telecoms company. He has an MBA from University of California, Los Angeles, and put it to good use in 2018 by overseeing AT&T's acquisition of Time Warner.
---
3. Tim Cook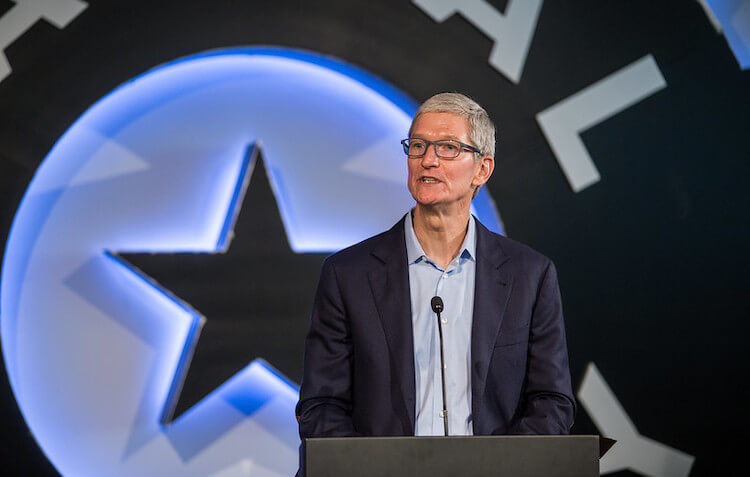 ©Austin Community College. Image used under this license.

Company: Apple
Fortune Rank: 4
MBA: Duke Fuqua
Tim Cook has now been CEO of Apple for nine years, starting as an interim CEO in 2011 as Steve Jobs took time out due to his declining health. He has an MBA from Duke University Fuqua School of Business, and has used his business acumen to guide Apple to a groundbreaking $2 trillion valuation, making it the most valuable US company.
---
2. Darren Woods

©corporate.exxonmobil
Company: ExxonMobil
Fortune Rank: 3
MBA: Kellogg
Where did the CEO of the America's third-largest company get his MBA? The answer is Northwestern's Kellogg School of Management, where he graduated from in 1992. That very same year, Woods joined Exxon Company International as a planning analyst in New Jersey, progressing to Vice President of ExxonMobil Chemical Company in 2005 and ending up as CEO in 2017.
---
1. Doug McMillon

Company: Walmart
Fortune Rank: 1
MBA: University of Tulsa
The President and CEO of America's largest company, Walmart, started out with an undergraduate degree at the University of Arkansas, progressing to the University of Tulsa where he gained his MBA in 1991. McMillon has been at Walmart for over 10 years, seven years of which has seen him in the position of CEO.
---
Next Read:
How Many Forbes Billionaires Have MBAs?
---
*This article focuses on the top 30 firms listed in the 2020 Fortune 500 ranking.
The main image of this article is credited to Pierre Lecourt and used under this license.