INSEAD is one of the world's leading business schools, ranked third in Europe by the Financial Times in 2021. The INSEAD Master in Management (MiM) gives students international exposure alongside access to top employers and a diverse student network.
The internationally oriented 14-16 month program allows you to study in Fontainebleau—France—and Singapore with optional study trips to China, Abu Dhabi, and the USA.
BusinessBecause caught up with two INSEAD MiM students, Izzy Ngo and Michal Gren, to discover why they chose the INSEAD MiM and what life is like on-campus.
---
Download Our Master's Survival Kit 2022
---
Why the INSEAD MiM?
Izzy, from Singapore, has also lived in South Korea and the UK. She's always had an appreciation for global diversity, which has driven her professional endeavors.
After studying anthropology at Yale-NUS College, where she worked at organizations like the Big Three consulting firm, McKinsey & Company, Izzy found herself drawn to entrepreneurship.
She started her career at a medical tech startup, where she worked as a project manager for Southeast Asia. Later, she co-founded and ran an education tech startup which developed virtual reality education content.
She chose to study a MiM to refine her entrepreneurial experience. "The MiM would allow me to supplement my practical business experience with a formal education," she explains.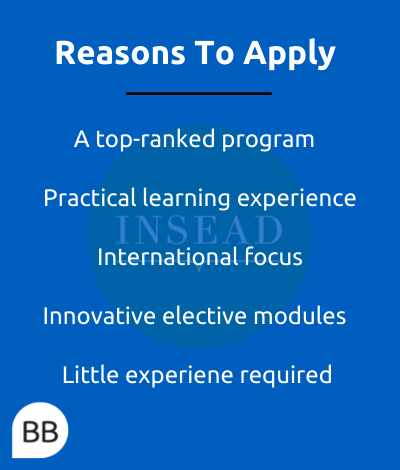 When searching for programs, Izzy was attracted to the international focus of the INSEAD MiM, along with the school's world-renowned reputation.
Specialization opportunities were also attractive: many electives focus on innovation and you have the option to complete an Entrepreneurship Project during the program, requiring you to work with an early-stage startup company.
Michal had a similar passion for innovation that drove him to the INSEAD MiM. A management and economics undergraduate from Bocconi University, he was interested in how business could shape society.
He had a job working with a European venture capital fund where he channeled a passion for innovation and tech. During his spare time, he also ran a 20-person charity that hosted a tech conference in London, gathering students and managers from some of the world's biggest tech companies.
Despite the dual experience he gained from the charity and his job, Michal still felt he wanted further formal business training beyond his undergrad degree.
He knew of INSEAD as one of the world's most prestigious institutions that operated across multiple countries, and was delighted when he found the MiM, which would allow him to join the school with little experience.
"I chose INSEAD, given its stellar reputation and the fact that the program takes place both in Europe and Asia—a truly unique component," he says.
---
INSEAD Master in Management | What to expect
Now midway through the INSEAD MiM, both Izzy and Michal highlight the welcoming environment and positive social experience among classmates at the school.
"We always make sure each person feels at home," Michal says.
A highlight for Izzy was co-hosting 'Singapore night' with other Singaporean students. In preparation for a move to the school's Southeast Asian campus, which takes place in period four of the program, they created a festive night where they shared what they loved about the country with their classmates.
"After a grueling week of studies, exams, and job-searching, seeing everyone enjoy themselves and excited about the next chapter of our MiM journey together was fulfilling," she says.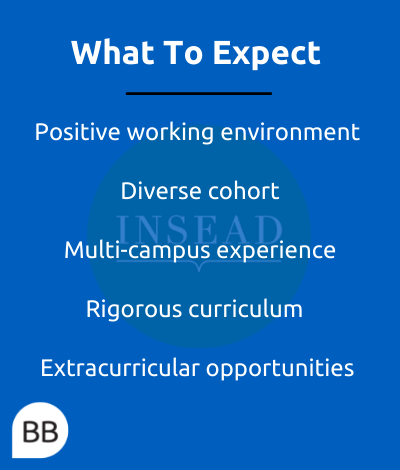 Michal spent his first few days of lectures and welcome week activities online. When he arrived in Fontainebleau, he was concerned he had missed critical bonding time, but he was greeted at the airport by a fellow INSEAD MiM student who took him to a bar where the whole class was there to meet him.
"Everyone knew my name and told me how excited they were that I finally managed to join them," he explains.
With an intensely rigorous curriculum and a range of extracurricular activities on offer, the social experience on the INSEAD MiM is important in supporting students through the program.
Izzy's friendships have helped her navigate the balance between her studies, career, and personal life. While she has sometimes closed herself off to social and extracurricular learning opportunities, she feels the welcoming student body has helped open her mindset.
"The people I've met in this program have helped me thrive in this intense environment," she says.
---
INSEAD MiM | Careers
As they look to the future beyond the INSEAD MiM, both Izzy and Michal highlight the Career Development Center's (CDC) commitment to helping them find the right career path.
The CDC team engages with students through career courses, electives, workshops, and individual sessions. They develop partnerships with alumni and recruiters and host companies on campus, the team also has several sector specialists and counselors readily available.
"They allow us to properly understand our strengths and weaknesses to accurately define our professional path," Michal says.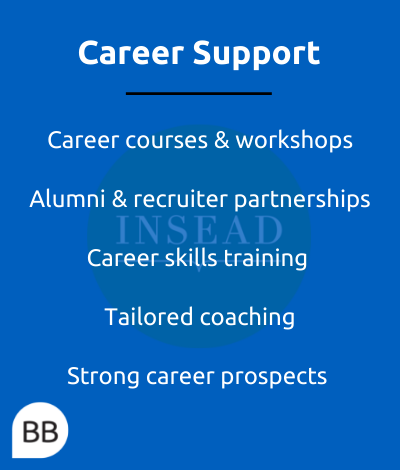 There's also a large focus on career skills: INSEAD's CDC hosts sessions helping students with key tasks like writing a cover letter or answering questions in an interview.
"Whether you need detailed application advice or someone to talk to, resources are always available," Izzy says.
Each student has a personal career coach, which was instrumental for Michal since, initially, he struggled to decide on a career sector due to his broad range of experiences.
"After a long conversation, we established three of my main skill pillars and created the story around it that later accompanied me whenever I was looking and applying for jobs."
The impact this vast amount of career support has is clear to see: a 2021 survey found that all INSEAD MiM students looking for a job had received an offer after graduation.
"CDC takes a holistic and person-centric approach to career development," Izzy explains. "They go above and beyond to create space for us to find the purpose that will drive our career journeys and ultimately stay with us long after we've left."
---
Next Read:
Master's Survival Kit 2022: 10 Things You Should Know Know Before Going To Business School