Live Updates: Coronavirus Impact On Business Schools
What is the impact of coronavirus on business schools? We bring you the latest updates including campus closures, changes to MBA admission requirements, and more
Summary
Latest features:
The pandemic has slowed down progress for women in the workplace, but we will adapt and innovate, say the team behind ESMT Berlin's Women in Leadership Club

Two-thirds of business school programs have seen applications increase during the pandemic, according to new GMAC research

You can now book to take the GMAT Online Exam into 2021, so could the online GMAT become a permanent option?

The disruption caused by coronavirus has brought about exciting opportunities for businesses to evolve, and meet the changing needs of their customers
These MBAs Set Up A Women In Leadership Club During COVID-19
COVID-19 has meant changes to business on all levels. But how has it effected women in particular?
At the beginning of the pandemic, the prospect of working from home was seen as a potential equalizer for women, allowing employers to hire from a more diverse pool of candidates, and offering more flexibility for female employees.
But the reality has not been that simple. The Harvard Business Review found that women are 1.8 times more vulnerable than men to lose jobs during this pandemic. Women make up of 39% of global employment but, as of May 2020, they account for 54% of overall job losses.
However, it's also been a time of innovation and change, especially among female business school students.
"It's in women's DNA to be adaptable, and get around circumstances like COVID-19", says Huyen Nguyen, an MBA student at  ESMT Berlin, and current VP of events at the recently founded Women In Leadership Club.
Setting up the club in a pandemic

The Women in Leadership Club at ESMT Berlin was founded as the pandemic began, and has adapted to the challenges of COVID with impressive speed. Its mission is to develop and empower the women to take on leadership roles, and build a community of advocates, supporters, and allies of advancing women. The club comprises of not only women, but also 30% men.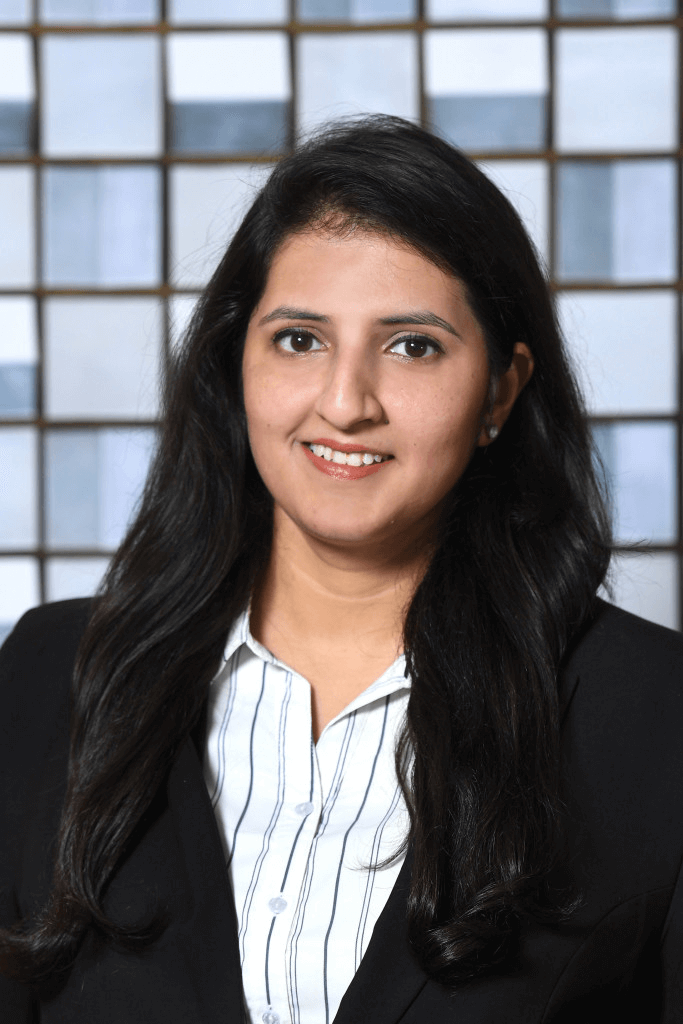 During the lockdown, the club set up events online and organised small group networking and talks with female industry leaders via Zoom, where these women shared their experiences and suggested how to face the work challenges they've been met with.
The club has also expanded its awareness on various social media channels such as Linkedin, Instagram and Facebook to share inspiring stories of women in business, in lieu of being able to meet them face to face.
One of the clubs initiatives is the 'Lean-in-Circles Program', which gives students a safe space to talk openly about everything from the challenges they face, to how to rally together in tackling them. "I did not know anyone in Germany before coming to ESMT," says Madhusmita Triparthy (pictured right), one of the co-founders of the ESMT Women in Leadership Club. "The group members of my circle are like my family, and my go-to people here."
Since COVID-19 measures started to ease in Germany, the club has already managed to have a face to face event- "Chat& Connect"- that helped the members to connect to the alumnae of the school.
They've also doubled down on their ambition to expand beyond ESMT, connecting to other Women in Leadership clubs across other business schools in Europe and creating a sustainable community.
How has COVID-19 affected female business school students?
The Women in Leadership Club is far from the only aspect of business school to be affected by the pandemic. Though many students are now back in the classroom, COVID-19 meant thousands of MBAs studied from home, and hybrid programs mixing on campus learning with online sessions are becoming normalized as a result of the pandemic.
The team behind the ESMT Women In Leadership Club describe mixed feelings about studying online. On one hand, they found it easier to communicate with the professors and studying at their comfort zone. But on the other hand understanding difficult concepts online was challenging with several technical issues cropping up every now and then and there was no fellow classmate to go to for clarifications.
"At times I kind of felt alone." Madhusmita says. "I really missed that human touch and those important conversations with fellow classmates."
"I have undervalued myself at work in the past—I wasn't confident when presenting myself, and I know I've missed some opportunities in professional development because of that," says Huyen (pictured right).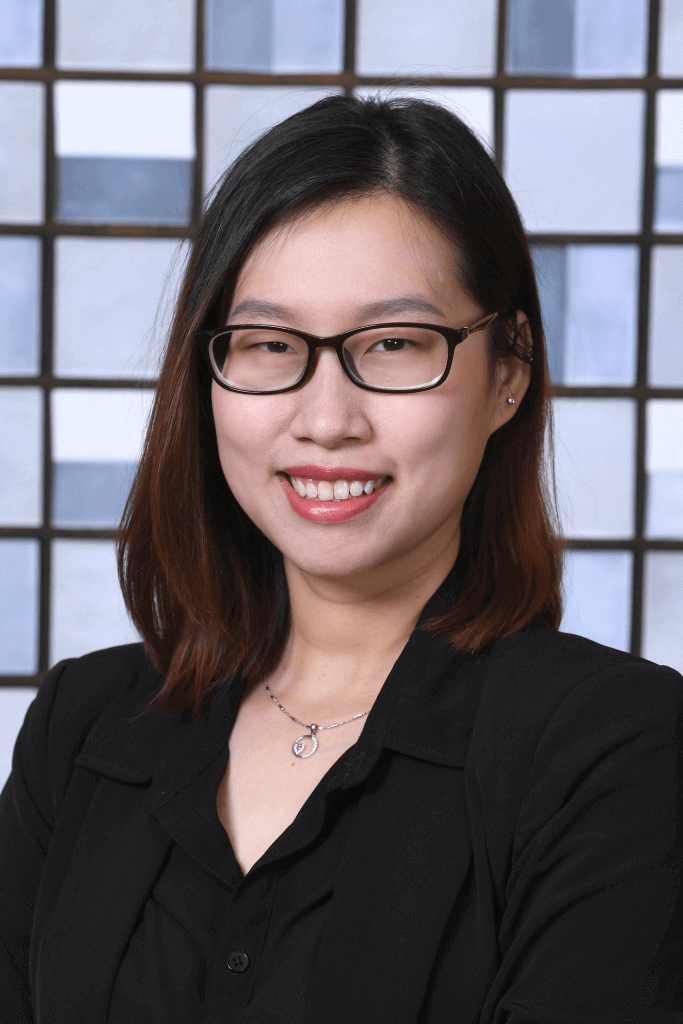 "Meeting other women who have experienced the same issues as you in the workplace is often a catalyst for change. COVID-19 means less chances to go out and talk to people in a casual environment and share your previous experiences," Huyen explains. Informal, face to face networking is vital to progress, but it can be hard to recreate these meaningful relationships on zoom.
"Being a WIL club member made me realize about the different challenges women face on daily basis depending on from where they are" adds Beatriz Meythaler, fellow MBA student at ESMT Berlin, and VP- Communications of Women In Leadership Club.
"In Germany," she continues, "you can see women walking alone at night without fear. They can be independent and free at night. In Ecuador, where i'm from, the situation is completely different. As a woman, you cannot do that without putting your life at risk."
"Some Latin American friends, male and female, have shared with me how their perception about gender has changed through this club after becoming aware of the psychological challenges women face at work. Back at home they used such expressions as 'you play like a girl'. Now, they are aware of the negative impact of using such expressions and avoid them". Beatriz adds.
48 students represent 24 countries in the 2020 ESMT MBA cohort, and 40% of the class are women. The internationality of the cohort brings diverse perspective and enriches the classroom discussion at ESMT.
Though diversity in the classroom may be a harder resource to tap into in remote learning situations, initiatives like those of the Women In Leadership Club at ESMT are ensuring that progressive conversations and perspective sharing is still happening.
READ: 4 Ways An MBA Can Help You Navigate Uncertainty
How has COVID-19 effected women in the workplace?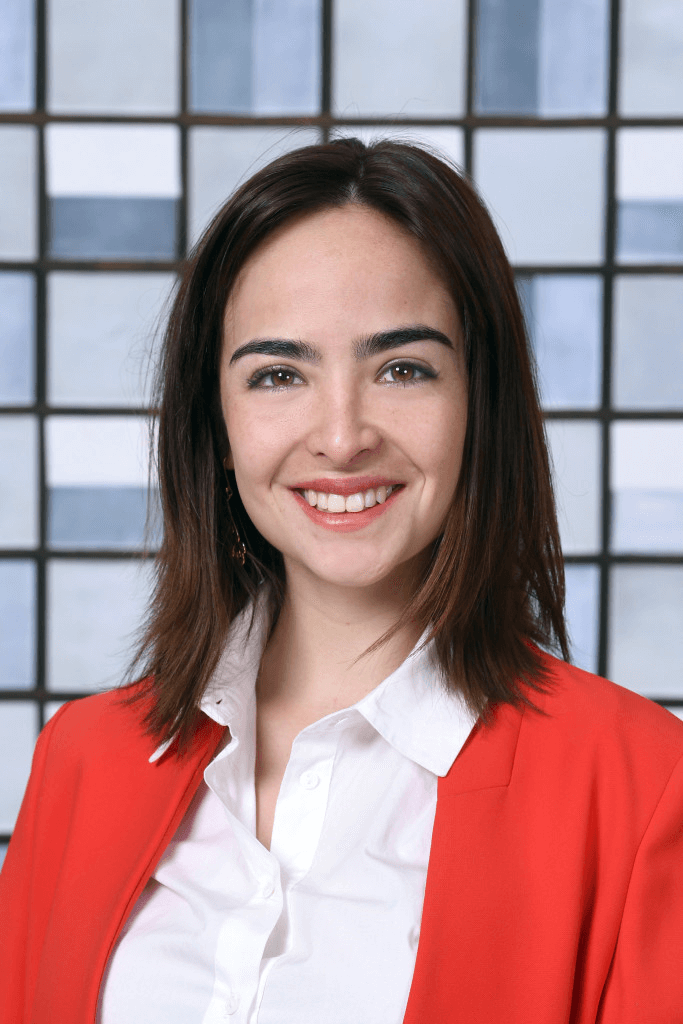 Though innovations in the ESMT Women In Leadership Club are encouraging, women at the workplace have still been hit badly by the effects of COVID-19 on businesses. This is particularly true for working mothers.
A recent survey in the UK found that 81% of mothers needed childcare to be able to return to work, but only 51% of those women were able to access it.
"Society is changing, but progress has been very slow" says Beatriz (pictured right). "COVID-19 has made the progress even slower."
For mothers who can return to work, there are still obstacles. "Women are always treated as the primary caregiver of children," says Madhusmita. "If everyone is working from home, it's women who are compensating for childcare more than men."
This is known as the invisible workload, where women are seen as the manager of the household, and therefore expected to stay on top of chores and childcare, creating what some call a 'second shift' in the home.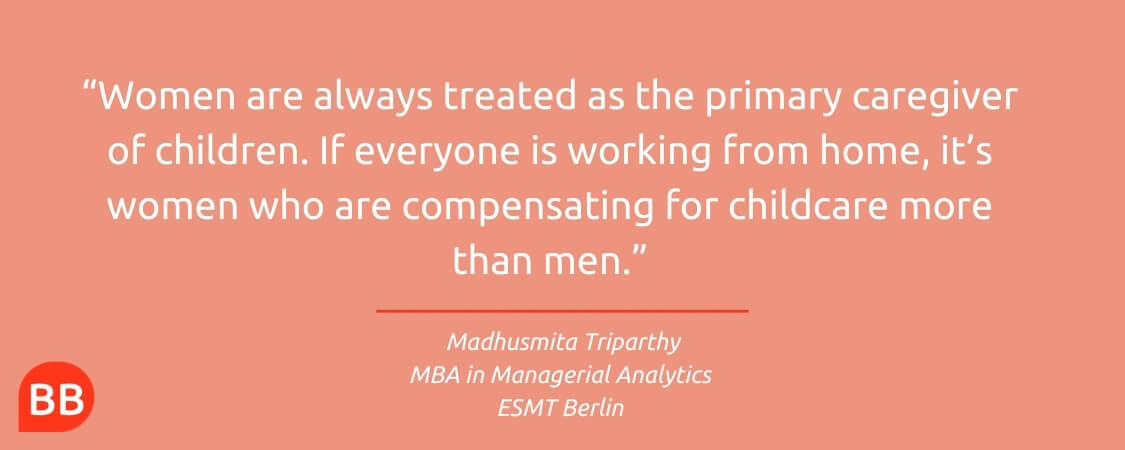 "We're already overcompensating by putting extra efforts at work to ensure our managers do not feel that we are any less than our male counterparts. So adding the extra pressures in the form of unpaid-care is tough on women," adds Madhusmita. She founded the club after witnessing the dearth of female leaders in her previous workplace at a top automotive company in India. This experience inspired her to work to change the patriarchal mindsets of fellow male colleagues.
When it comes to climbing up the ladder, doing everything online poses further challenges. Many businesses have successfully maintained the status quo through remote working, but are yet to get around how to best assess, promote and hire fairly during a pandemic.
Moreover, working from home has increased the burnout rate among women who are juggling between office responsibilities and other duties at home, resulting in increased stress levels.
But such issues have only encouraged the Women In Leadership Club to double down on their ambitions. The next goal for club is to organize a women in leadership conference next year, that would have a greater scope, attract a larger audience and host top women leaders across different industries.
"If we want to promote an inclusive mindset and gender equality at work," Madhusmita concludes, "we need to come together and speak about it."
Applications To Business Schools Increase Amid COVID-19 Pandemic
Business school applications tend to be countercyclical to the state of the economy: more people apply to MBA and master's programs when the economy and the jobs market recedes; fewer people apply when the economy is strong. 2020 is no exception.
67% of business schools saw an increase in applications in 2020, according to the new Application Trends Survey published today by the Graduate Management Admission Council (GMAC), which tracks demand for MBA and master's programs. The total volume of applications to global business schools increased by 2.4%.
This is a significant rebound from 2019, which saw overall applications fall by 3.1%, as well as over half of schools reporting a decrease in applications.
GMAC CEO Sangeet Chowfla puts this down to the effect a receding economy has on the business school decision in candidates' minds.
"The opportunity cost of leaving a job to pursue an MBA or business master's lessens as economies begin to regress. As a result, we are now seeing more people thinking about b-school to grow or improve their career prospects," he says.
---
---
US business school applications rebound
---
After years of falling demand, applications to US business schools have seen a 20.6% spike in 2020. 67% of US programs reported increases in applications, a big improvement on a figure that has remained below 40% since 2017.
US application numbers have been boosted largely by increases in both domestic applications, which were up 29.9% this year, and international applications, up by 14.7%. That's good news after 2019's 13.7% drop in international applications to the US, which triggered an open letter penned to the President.
---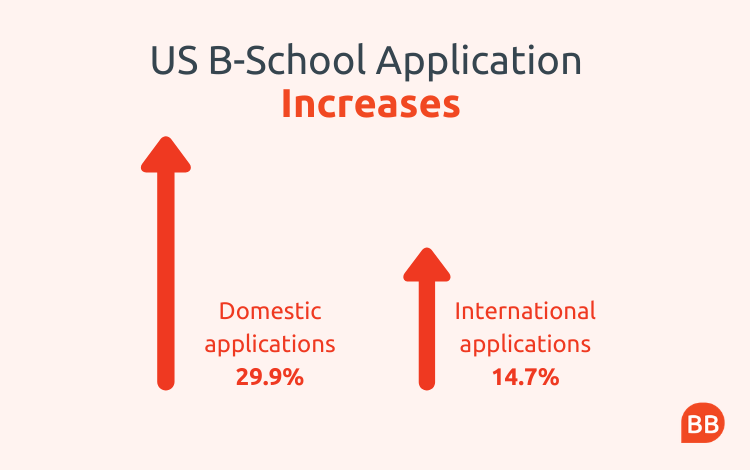 ---
Growing numbers among domestic students is particularly important for the US, where they make up 63% of the total application pool.
Demand for program types in the US has seen changes. Online MBAs have seen the biggest percentage growth—with 86% of programs reporting growth. This a response to the increasing online orientation of business schools, as well as uncertainty over travel restrictions as a result of COVID-19.
Two-year full time MBAs have also rebounded in popularity, with 75% of programs reporting growth overall. This is particularly high among top-ranked MBA programs, whose reputation and reliability remains consistent in the face of a changing business school landscape.
---
Sky-rocketing European business school applications
---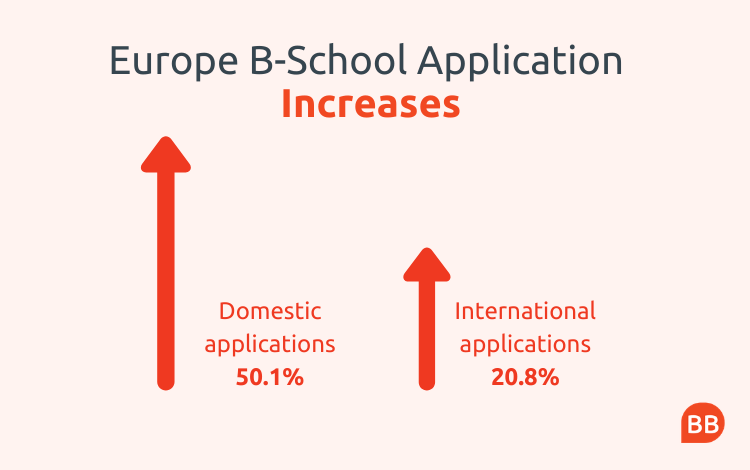 ---
2020 has been a stellar year for European applications, with business schools in Europe reporting a 24% increase overall, up from a 0.9% increase in 2019.
Considering European programs tend to rely heavily on international applications, their performance has been largely bolstered by an increase in domestic applications, which have increased by 50.1% in 2020. International applications have also increased by 20.8%—these account for four-fifths of total applications.
Among these international applications, around a fifth come from central and south Asia, with an additional fifth from east and southeast Asia. This perhaps accounts in part for the decline in domestic applications to Asia Pacific.
---
However, applications to Asia Pacific fall
---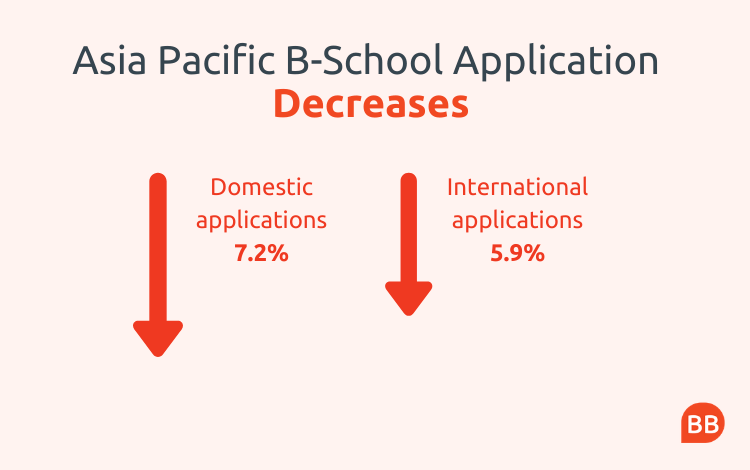 ---
Business schools in Asia Pacific have seen a growing demand over recent years, often credited with pulling candidates away from the US. In 2020, however, Asia Pacific has seen a 7.1% decline in overall applications.
This is a combination of a 7.2% fall in domestic applications, and 5.9% decrease in international applications.
The demand for two-year full time MBA programs remains strong, however. 61% of these programs reported growth, compared to just 40% of one-year MBA programs, and 43% of post-graduate programs (PGPs), the Indian equivalent to an MBA.
Experts blame a rocky year for Asia Pacific's decline in applications. One admissions officer, in the report, cites the Hong Kong protests, followed by the outbreak of the COVID-19 pandemic, for Asia's weaker performance in 2020. India, which is the region's largest applicant pool, has faced different extents of national lockdown which could be set to continue.
---
Changing demand for MBA vs Masters
---
2020 has also seen changing demands towards the popularity of certain types of programs.
Reversing a clear trend, full time MBA programs have experienced a surge in popularity. Over a third (37%) of full time MBA programs experienced 'significant growth' (over 20% increase). This is almost triple the number in 2019.
Business master's programs have also fared well in 2020. Two-thirds of master's programs recorded growth, with master in management and master of finance programs recording the higher increases.
As the economic outlook remains uncertain for the short to medium term, reinvesting in education and applying to business school seems to be at its most popular in nearly a decade.
---
Next Read:
Find out what Biden's Presidency Means For US Business Schools

GMAT Online Exam Appointments Extended Into 2021
The Graduate Management Admission Council (GMAC), owner and administrator of the GMAT Exam, has announced that appointments for the GMAT Online Exam will be available until the end of February 2021.
The GMAT Online Exam was initially launched as a temporary solution to support candidates applying to business school during the coronavirus outbreak, which forced the closure of GMAT test centers.
Now, with coronavirus seemingly here to stay and the world shifting to life online, the online GMAT will serve candidates looking to enroll in MBA and master's programs beyond this year.
The Executive Assessment Online, a GMAT-style test for Executive MBA candidates, will also be available to take into 2021.
Vineet Chhabra, senior director and head of the GMAT product at GMAC, says: "We are committed to offering candidates the flexibility to test in either format, in a test center where safe and available, or online. As the market evolves, so too will GMAC and its portfolio of assessment products."
---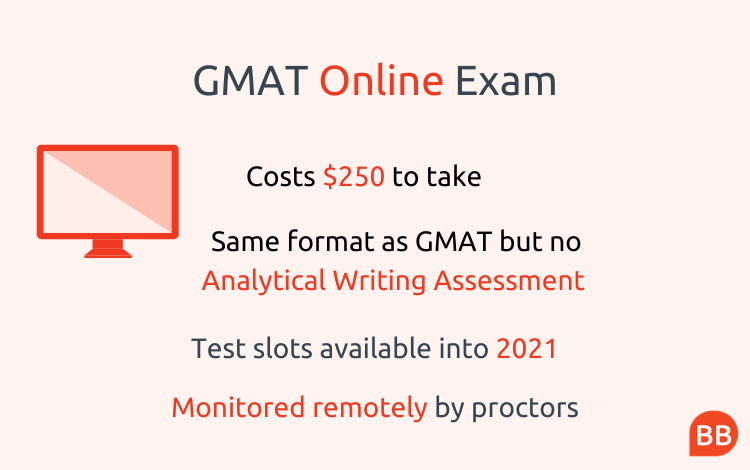 ---
GMAT Online Exam vs. Test Center GMAT
Although GMAT test centers have re-opened in some countries, many elsewhere remain closed or with limited capacity. It's also trickier for candidates to plan ahead or travel to test centers with the ongoing threat from COVID-19.
In terms of content, the only difference between the online GMAT and the test center version is the exclusion of the Analytical Writing Assessment (AWA) section from the online test. This section, known as the 'essay section', consists of a 30-minute writing task.
The online GMAT has the same structure, number of items, and duration as the test center exam. It also uses the same scoring algorithm and score scale for the Section Scores and Total Score.
Candidates were initially unhappy that they weren't permitted to take physical notes during the GMAT Online Exam, but GMAC was quick to address this and test-takers are now able to use a physical whiteboard as well as the online whiteboard tool.
The test is available in impacted markets globally, excluding markets limited by regulatory restrictions: Mainland China, Iran, Cuba, Sudan, and North Korea.
The GMAT Online Exam costs $250 globally and is hosted on mba.com, where you can also register for the test.
---
Note: The GMAT Online Exam now allows a physical whiteboard option.
---
GMAT Online Exam | A permanent solution?
While there's no current news on testing appointments beyond February 2021, the GMAT Online Exam looks set to stay. GMAC itself says it will continue to open up availability, and some admissions consultants are calling for a permanent solution to provide added flexibility for business school candidates.
In order to match the quality of the test center GMAT however, Piyush Ranjan, founder of the admissions consultancy Management Masters, says there needs to be more flexibility on test-taking policies.
While the physical whiteboard option is a step forwards, he says his clients want to use pen and paper when taking the GMAT Online Exam; something permitted by alternative test providers.
GMAC says it has seen widespread acceptance of the GMAT Online Exam from business schools. Both GMAT and GMAT Online scores are valid for five years.
"Since April, candidates representing 124 countries have sent scores to more than 2,000 business school programs around the world," said a GMAC spokesperson contacted by BusinessBecause.
"Schools globally have been very comfortable and confident utilizing the GMAT Online exam to evaluate their applicant pools.
"The purpose, construct and scoring structure of the online assessment is comparable to the exam delivered in test centers and GMAC has observed scoring outcomes comparable to exams delivered in test centers."
---
Applying To Business School During COVID-19?
---
---
Next reads:
GMAT Online Exam: Everything You Need To Know
GMAT Online Exam | 13 Top Test Prep Tips
What Opportunities Does COVID-19 Offer Businesses?
2020 has been a year of disruption. The coronavirus pandemic has accelerated the shift toward remote working and digital transformation, while prompting consumers to think differently about their buying habits.
According to a recent McKinsey report, many organizations have accelerated digitization projects by three to four years.
In this uncertain landscape, business schools have an important role to play: equipping leaders with the skills they need to grasp the new opportunities arising.
In Singapore, Nanyang Business School (NBS) has been empowering future business leaders with the relevant knowledge and tools to embrace the technological revolution, create positive impact and excel in Asia and beyond.
Situated within the tech and innovative ecosystem of Nanyang Technological University, Singapore (NTU Singapore), the school is well-placed to leverage technological innovation in a business setting.
Most graduates of the school's flagship MBA program—the Nanyang MBA—go on to work in disruptive industries like technology (22%), finance (20%), and retail or e-commerce (15%), according to the school's latest careers report.
To find out what the current disruption means for businesses, we caught up with three prominent NBS alumni who shared their insight on the opportunities that have emerged in response to coronavirus:
---
1. Unlocking the power of data
---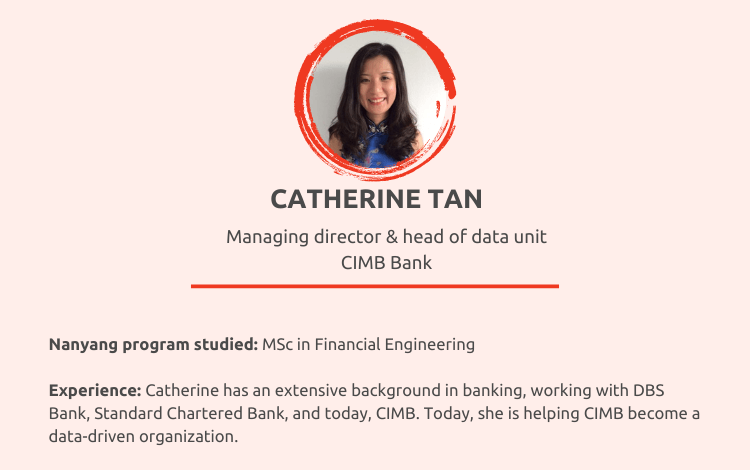 ---
By 2025, the World Economic Forum predicts that humans will create 463 exabytes of data each day—the equivalent of over 212 million DVDs. As companies continue to capture this data, they face the challenge of working out how to use it.
For Catherine Tan, managing director and head of the data unit at CIMB Bank, this is the most important opportunity brought out by the accelerated digitization of 2020.
"A lot of the time, people may be a bit daunted by data analytics, but it's essentially just pulling together the data, understanding trends, and trying to get some value out of that," she explains.
Catherine graduated from NBS' MSc in Financial Engineering in 2002. She was drawn to the innovative nature of the program, she recalls, which combined computing, mathematics, and finance.
"NBS had real foresight teaching these skills together so early," she reflects.
The program strongly emphasizes data analytics and gave her the opportunity to develop the analytical skills she has brought to the financial world.
"In my industry, we always talk about knowing your customer," says Catherine. "And data can tell us a lot about someone's lifestyle and choices."
---
2. Supporting continuous learning
---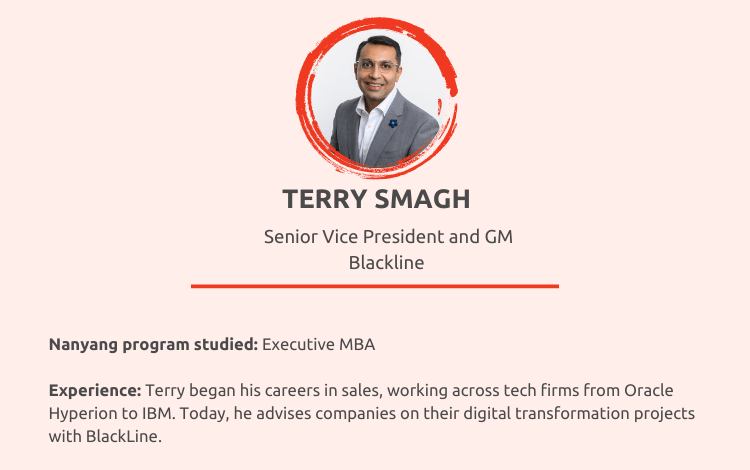 ---
As the pace of technological development continues to accelerate, the only constant is change. To succeed in this climate, organizations must be agile and adaptable.
Terry Smagh, senior vice president and general manager at cloud-based finance software firm, BlackLine, believes that lifelong learning is necessary to keep up. Implementing this learning is a key opportunity for business leaders.
A recent IBM report predicts that more than 120 million workers in the world's 12 largest economies will need to be retrained in the next three years.
"Today's disruption is really about us wanting to do three things," Terry reflects. "We must learn, un-learn, and re-learn, as we adapt to new technology and up-skill ourselves."
Terry is an alumnus from the Nanyang Executive MBA program, graduating in 2015. As a passionate lifelong learner himself, he used the qualification to structure his learning, and tap into a global alumni network that would allow him to learn even more from other leaders, while sharing his own insights.
This diverse, global network has offered Terry ample cultural insights, which come in useful when working on digital transformation projects for companies around the world.
Positioned in Singapore—known as a meeting point for Eastern and Western business—NBS makes an ideal training ground for leaders who must navigate between cultures.
Terry has taken this attitude of learning from others forward in his current role—helping organizations automate financial processes like accounting.
"I think this disruption today—even putting the pandemic aside—is a good moment for us to look at what we'll do differently going forward," he says.
---
3. Championing sustainability
---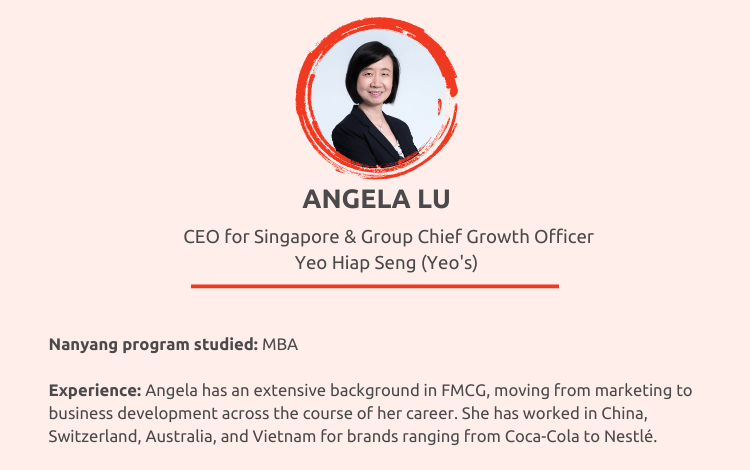 ---
Balancing transformation and training goals with sustainability is another crucial opportunity for today's business leaders.
New limitations on travel and remote working practices have resulted in an 10% global drop in global energy demand, and a simultaneous increase in demand for renewable energy. Many people have taken these unexpected lifestyle changes as an opportunity to reassess their environmental impact.
Even as restrictions ease, consumers are keen to make sustainable decisions, explains Angela Lu, CEO for Singapore and Group Chief Growth Officer (CGO) at food and beverage giant, Yeo Hiap Seng (Yeo's).
"We face the challenge of becoming more sustainable," she explains. "You need durable packaging for food, but you also need to be aware of its environmental impact, and research more sustainable options."
Angela graduated from the Nanyang MBA program in 2006 and used the leadership insights she gained to pivot from marketing to more strategic roles.
MBA students at NBS have ample opportunities to grow as leaders, through courses like Corporate Governance and Ethics, which highlight the ways that business leaders can be more purpose-driven.
From the program, she learned to always keep a finger on the pulse of customer demand.
"Often the people who work for you interact with your customers every day, and have the most insight," she says. "Their ideas can be better than those from people in leadership positions."
Applying this insight to her work with Yeo's has helped Angela stay abreast of shifting consumer desires through strong communication with her team.
"My time in the Nanyang MBA really shaped how I see things, and how I interact with different people," she concludes. "These are core skills I continue to use every day."